[Introduction] [Download] [Register RS FTP] [Features] [Privacy Information] [Screen Shot] [FTP Hosting]
RS FTP Introduction
RS FTP is a powerful new Windows FTP Client, suitable for all Windows 95/98/ME/2000/XP and NT operating systems. It is also compatible with a wide range of servers.
RS FTP is distributed as a free download and allows a free 21 day trial. It comes complete with an Uninstall Utility, should you wish to remove it from your PC at any time.
Simplified configuration and ease of use make RS FTP stand out from the crowd. Our existing customer base has many first time FTP'ers who have sent us some very good and positive feedback.
RS FTP has been designed to remove all the redundancy usually associated with transferring files. Less time spent on unnecessary overheads gives more bandwidth for file transfers. So, file for file, RS FTP can be considerably faster than many other FTP Clients.
RS FTP removes the uncertainty about what type of server it is connecting to. The software automatically detects and operates with, at the very minimum, all of the following server types:
Linux
Microsoft Windows and NT server variants
MSDOS
MultiNet and non-MultiNet VMS
NetPresenz for the Mac
NetWare
Solaris
Unix and Unix compatible
WFTPD for MSDOS
For the Security Conscious, RS FTP stores all passwords with 128 bit encryption.
All in all, RS FTP gives you the fastest file transfers possible. This along with it's ease of set-up and it's wide range of compatible servers make it a good choice for all your file transfer requirements.
[top]
RS FTP Install from the Web - Free Download & 21 Day Trial
The RS FTP Client software is available for free download from this site. Click on the download link to start the download going. When the download has finished, double click on the file to start the installation.
Click here to download (simtel.net)
Alternate download link (local server)
Latest Release: May 5th 2002 Version 1 SR 7 (notes)
[top]
RS FTP Registration
RS FTP is available for a low US$17.95. Once you have registered all updates are free.
In order to register your software we will need your User Number exactly as shown in the RS FTP Registration Window (something like 12345678-4321). Once you have this ready then please choose one of the following three registration methods.
Visit our online store, remembering to enter your User Number into the Order Notes window.
Get your registration instantly and securely 24 hours a day, 7 days a week. This is a more expensive option since up to 56% of the purchase price goes to Digital River in commission. Click Here to register via RegNow.
Enter your User Number into the box below and then click the Buy Now button to order via PayPal.
[top]
RS FTP Client Software Key Features
Easy to use!
Intuitive Windows Explorer type interface, for both Local and Remote files.
Full Drag and Drop capability for all types of files.
'Address Book' to store your favourite FTP site information.
Create New Folders. Rename, Delete or Execute files without having to leave the program
Fully configurable for your specific proxy and/or firewall situation.
Never Pay for an Upgrade! All upgrades are free to registered customers.
Full resume of failed downloads or uploads.
Secure 128 Bit Encryption on Password files
Drag files from your Explorer Window straight onto your remote host!
Automatically detects all common server types.
Transferring files is just a matter of connecting to the host, then simply dragging and dropping your files across. It couldn't be easier.
Want to bookmark your site? No problem, just select the Address Book and create a new entry, everything is automatically filled in with the current site information.
Want the latest upgrade? No problem. All upgrades are free. Once you have registered the program you are entitled to a free download of each and every upgrade, forever!
Disconnected? No Problem, just hit the Reconnect button to be returned to where you were before the disconnect occurred!
Failed Upload/Download? No Problem, a drag, drop and click will get the transfer running from where it left off!
[top]
FTP Hosting
For all your Quality FTP Hosting and File Storage needs, we at Research Systems suggest that you give Cypher NetSpace a look. Cypher NetSpace can accommodate fast DSL connections and have great storage options.
[top]
Important Privacy Information
We at Research Systems do not put advertising panels within our software. Neither do we disclose, or sell, any customer information to third parties. This means that when you purchase from Research Systems you can rest assured that all your details, including e-mail address, remain totally confidential.
[top]
Screen Shot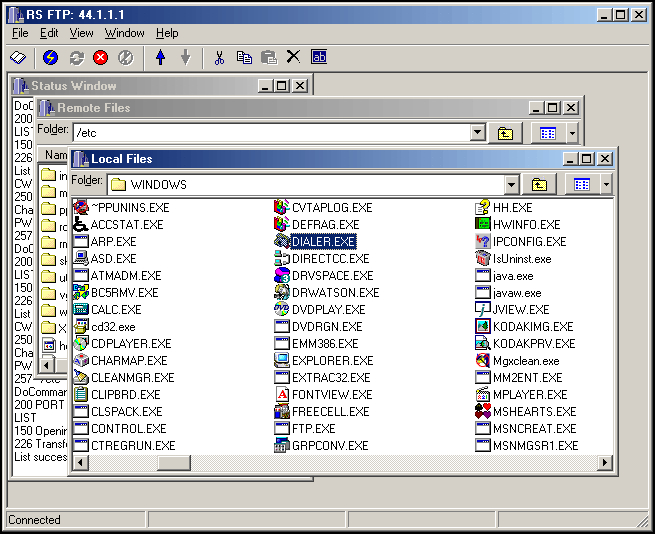 Screenshot from RS-FTP showing the windows cascaded. All windows are user configurable and retain their placement between sessions.
[top]