The Garden of Eden in the Bible Codes
This matrix shows an example of an interesting phenomena. Often, in Genesis, the underlying embedded codes relate to the surface text. In this instance there are terms related to the Garden of Eden within the very text that mentions it (Genesis chapter 3).
What is even more unusual, in this case, is that this matrix sits in the centre of the first and last mentions of 'The Garden of Eden' in Genesis.
---
CodeFinder Purchasing Information
Please click here to display the secure purchasing information page for the CodeFinder Millennium Edition Bible Code Software.
Alternatively click here to save both time and money by purchasing the CodeFinder software by immediate download. The download software is exactly the same as supplied on CD-ROM but at a saving of US$24.00.
Download instructions are automatically sent by return e-mail immediately on clearance of your payment.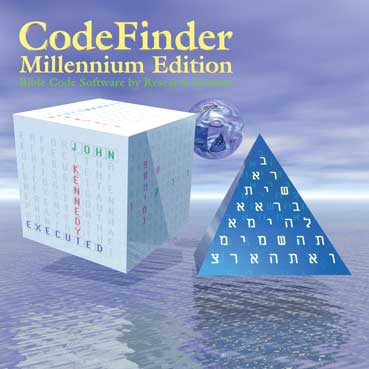 CodeFinder Bible Code Software Home Page
See our other Bible Code site at: http://www.codefinder.us
Sell your digital goods at: http://www.webdeliverysolutions.com