CodeFinder 'Millennium Edition' Bible Code Software
Independently rated as the world's #1 Bible Code Code Software, CodeFinder Millennium Edition is the fastest and most powerful Bible Code Software available. It comes complete with a range of English, Greek and Hebrew scriptures along with a comprehensive tutorial and an extensive 55,000 word Hebrew dictionary. Simple, step by step, examples are also shown online in order to assist you in getting up and running in the shortest possible time.
The CodeFinder Millennium Edition Bible Code Software is available both by Instant Download and on CD. It has more features than ever before and includes a carefully reworked and expanded tutorial. CodeFinder is 100% compatible with all Windows versions from 98, including Windows 10.
With results shown many times on TV, CodeFinder Millennium Edition Bible Code Software leads the field in Bible Code research. CodeFinder combines ease of use for beginners with sufficient features to satisfy even the most advanced researcher.
Purchase CodeFinder Millennium Edition by Download and in just minutes you can be exploring the world of Bible Codes on your own computer.
CodeFinder Millennium Edition on TV
CodeFinder Millennium Edition features in the following TV documentaries, originally aired on the History Channel:
The Bible Code: Predicting Armageddon
Bible Code II: Apocalypse and Beyond
Secrets of the Bible Code Revealed
Bible Code: The Future and Beyond
More about the Bible Codes


Yitzhak Rabin crossed by "assassin will assassinate" starting in Deuteronomy 2 v. 33

On 1st September 1994 Michael Drosnin passed a letter to a close friend of the then Israeli Prime Minister Yitzhak Rabin. It stated that the name Yitzhak Rabin was crossed by the term "assassin that will assassinate" in the Hebrew Torah. On the 4th November 1995 Yitzhak Rabin was indeed assassinated and the phenomenon of the "The Bible Code" came to light in a tragic, but incontrovertible, manner.

The CodeFinder Millennium Edition Bible Code Software now has far more features than that used by Drosnin, along with speed and power unmatched by any other product. With CodeFinder Millennium Edition you can take over from where Drosnin left off, discovering new hidden codes, in a variety of Hebrew, Greek or English Scriptures, faster and easier than ever before. A Comprehensive Tutorial takes you step by step through using the software and our Responsive On-line Support is always available.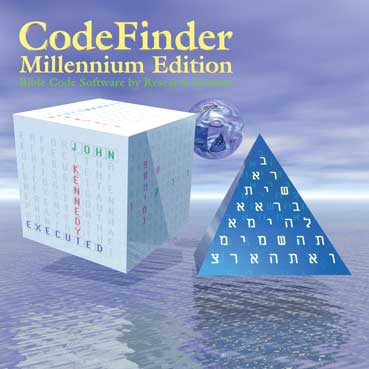 Purchase CodeFinder Millennium Edition today and begin your own exploration into the extraordinary phenomenon of the Bible Codes. Finally answer the question: "Is my name in the Bible Codes?".
| | | | |
| --- | --- | --- | --- |
| | US$67.95+$4.00 p&h. | | US$47.95 Save $24 over the CD |
The CodeFinder Millennium Edition artwork, to the right, shows part of the JFK 'Execution' matrix along with a representation of the "Triangle Number" phenomenon of Genesis 1:1. Click here for a full size copy of this artwork.
Some of the Bible Codes discovered with CodeFinder
CodeFinder 'Code Pack' Extensions
In addition to the English, Greek and Hebrew texts already supplied with CodeFinder there are now three specially prepared code packs that are available by 'Instant Download'. These add Aramaic and Cipher texts to CodeFinder and also extend the Greek search capabilities. These code packs are available to purchase at the low cost of US$4.95 each and are suitable for both the Download and CD versions of CodeFinder. If you want to extend your Bible Code research into new areas then you can now add one or more of our code packs to your collection of search texts.
The Aramaic Code Pack introduces the 1905 Syriac Peshitta text and the Khabouris Codex.
The Greek Code Pack includes 4 new texts for codes searches with CodeFinder. These are the Byzantine-Majority, Nestle-Aland, Wescott-Hort, and Tischendorf texts.
The Cipher Code Pack adds Atbash, Atbach, and Albam permutations of the Torah and Tanach.
CodeFinder Special Projects
The unique features of the CodeFinder Millennium Edition Bible Code Software make it ideal for various, ground breaking, 'special projects'. Examples of these are shown in the essays titled Computers in Genesis and the related Data Integrity Patterns of the Torah.
CodeFinder Millennium Edition Key Features
Comprehensive Tutorial. Step by Step Instructions for using the CodeFinder Bible Code software.
Generates Detailed Reports of your findings.
Automatic determination of the best matrix, saving many hours over manual searching.
Dual Language Operation. Never again need Hebrew or Greek be a problem
Built in Hebrew Date and Number Conversion Utilities.
High Speed, 'Optimal Search Sequence' Algorithm, with full result caching.
Search in Hebrew, Greek and English Scriptures.
Scripture display with English Translation.
Look for up to 500 terms per search.
On Screen Virtual Keyboard for ease of Greek and Hebrew character input.
User Maintainable Dictionaries for Greek and Hebrew.
Export and Import of Search Results. Carry on where you left off on the last search.
Multiple Matrix Determination Methods.
Matrix Printout and Save to File capabilities.
Comprehensive On-Line and Context Sensitive Help.
Many configurable parameters for the advanced user.
CodeFinder Millennium Edition Incorporates
The CodeFinder Millennium Bible Code Software program itself.
The CodeFinder Dictionary Manager.
The Koren versions of Genesis, the Torah and the Tanach with English translation.
The Greek Textus Receptus with English translation.
The King James Authorised Version of the Old and New Testaments.
Both English and Hebrew Control Texts.
Full featured trial version of our unique "Music from the Torah" software (CD Version Only).
System Requirements
PC running Windows versions 98 onwards.
Can be run on the Apple Macintosh under a virtual Windows machine or Boot Camp.
Minimum 40 Megabytes of Hard Disk space for installation.
Minimum 16 Megabytes of RAM.
Minimum Screen Resolution of 800*600.
CodeFinder by Instant Download.
Download CodeFinder Millennium Edition Bible Code Software directly from our secure server and save $24.00 over the cost of the CD-ROM.
Download information is provided immediately on completion of payment, 24 hours a day, 7 days a week.