Codes in the Hebrew Torah
This page is dedicated to Bible Codes in the Masoretic Text of the Hebrew Torah. These codes are all samples of what may be found by the CodeFinder Bible Code software package with a minimum of time and effort.
Check out what the Bible Code has to say about:
---
CodeFinder Purchasing Information
Please click here to display the secure purchasing information page for the CodeFinder Millennium Edition Bible Code Software.
Alternatively click here to save both time and money by purchasing the CodeFinder software by immediate download. The download software is exactly the same as supplied on CD-ROM but at a saving of US$24.00.
Download instructions are automatically sent by return e-mail immediately on clearance of your payment.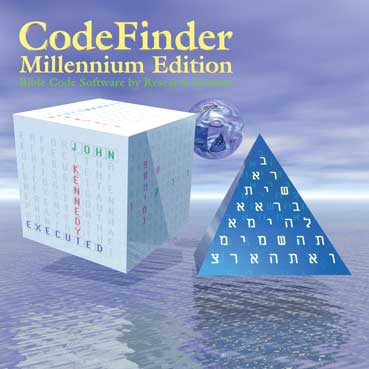 CodeFinder Bible Code Software Home Page
See our other Bible Code site at: http://www.codefinder.us
Sell your digital goods at: http://www.webdeliverysolutions.com