Codes in the New Testament
The King James Authorised Version of the New Testament exhibits a very strange phenomenon. When a term representative of a topical subject is chosen, it seems that the surrounding text exhibits strong connections to the that term. Prime examples of this are the Titanic, JFK and World Trade Center matrices.
This phenomenon seems so prevalent that it is probably quite within the realms of possibility to get a true glimpse of news headlines before the events actually unfold.
Some of the following sample matrices are a little 'tongue in cheek', but others should get you really thinking about the reality of the Bible Code phenomenon.
---
CodeFinder Purchasing Information
Please click here to display the secure purchasing information page for the CodeFinder Millennium Edition Bible Code Software.
Alternatively click here to save both time and money by purchasing the CodeFinder software by immediate download. The download software is exactly the same as supplied on CD-ROM but at a saving of US$24.00.
Download instructions are automatically sent by return e-mail immediately on clearance of your payment.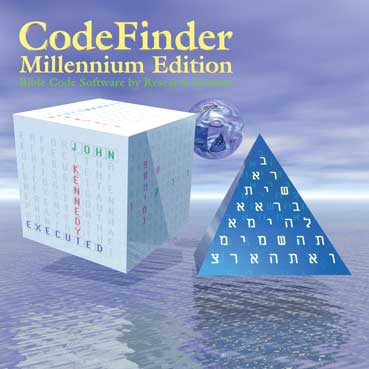 CodeFinder Bible Code Software Home Page
See our other Bible Code site at: http://www.codefinder.us
Sell your digital goods at: http://www.webdeliverysolutions.com